Here at Stockertown Beverage we pride ourselves on the fact that we have always done things differently from "the old school" model of beer wholesaling. Without being burdened with the constraints of a large Macro brewery as a business anchor, we have been able, from day one, to focus directly on our Craft Brewing Partners.
Stockertown Beverage serves wholesale beer customers in the eastern half of PA.
See our Sales Team page for your local Account Representative.
Click below for a copy of our
current Territory Agreement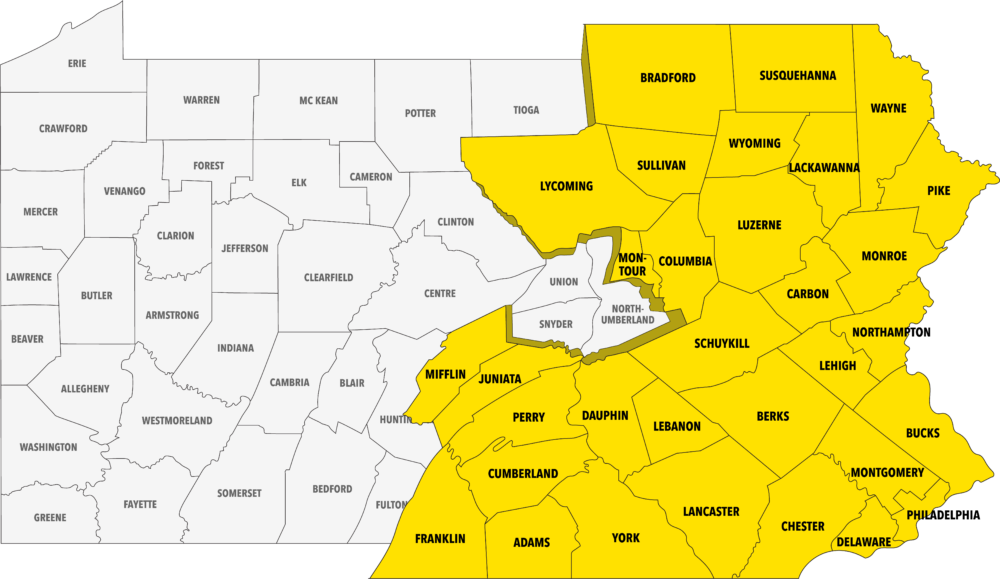 A bit of Stockertown Beverage history…
Our Founder & Co-Founder, John and Chuck, purchased a distributor license in 2002, opening the doors and selling beer later that year in a 2,000 square foot space. They stocked their retail shelves with the specialty brands available from wholesalers, but grew increasingly frustrated. Their customers routinely requested high-quality brands that were accessible in other states but not available in Pennsylvania.
It was at this time that they expanded their focus becoming an importing distributor with the goal of introducing exciting new brands and breweries to Pennsylvania consumers.
They began as a wholesale distributor in 2004 with zero employees and a very tight budget. They  purchased Chuck's wife's mini van, removed the child safety seats, slapped the required PLCB identification lettering on the doors and began wholesaling.
You just can't make that up!
7 Mile Brewery
Aldus Brewing Compayn
Argus Cidery
Armed Forces Brewing
Around the Bend
Arrowood Farms Brewery
Bad Seed Cider Co.
Bay Cannon Beer Company
Bear Republic Brewing Co.
Bent Water Brewing Co.
Big Truck Brewing
Breckenridge Brewing Co.
Broken Goblet Brewing
Burial Beer Co.
Cider Creek Cidery
Cerveza Alhambra
Coastal Sprtiz
Cricket Hill Brewing Co.
Crossroads Brewing Co.
D9 Brewing Company
Dark Horse Brewing
Duck Rabbit Craft Brewery
Epic Brewing Co.
Erie Brewing Co.
Firestone Walker Brewing Company
Founders Brewing Co.
Forgotten Boardwalk Brewing
Free Will Brewing Co.
Garage Beer
Glutenberg
Groennfell Meanery
Grüvi Non-Alcoholic Beverages
Havoc Mead
Helltown Brewing LLC.
Hofbrauhaus Freising
Hokkaido Brewing Co.
Hoppin' Frog Brewing Co.
Jolly Pumpkin Artisan Ales
Kenwood Original
Kuninocho Beer
Lake Placid Brewery
Levante Brewing Co.
Logsdon Farmhouse Ales LLC.
Liquid Hero Brewery
Mahou
Maui Brewing Co.
Millhouse Brewing Company
Mispillion River Brewing
Molly Pitcher Brewing Co.
Paradox Beer Company
Penn Brewing Co.
Platform Beer Co.
Ramstein
Redstone Meadery
Riley's Brewing
Rivertowne Brewing Co.
River Horse Brewing Co.
Roak Brewing Co.
Rock Art Brewing Co.
Saugatuck Brewing Co.
Side Hustle Brewing
Sloop Brewing Co.
Solemn Oath Brewery
Southampton Publick House
Steam Theory Brewing Company
Stickman Brews
Stoneyard Brewing Company
Sullivan's Brewing Company
Tattered Flag Brewery
Thomas Creek Brewery
Thomas Hooker Brewery
Tommyknocker Brewery
TRVE Brewing Co.
Two Rivers Brewing
Unknown Brewing
Urban Brew Labs
Weed Cellars
Wild Ohio Brewing
Wild Tonic
Zēlus Beer Company