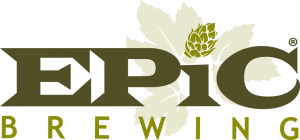 Salt Lake City, UT
Est. 2008
David Cole and Peter Erickson are the founders and co-owners of Epic Brewing Company. Cole and Erickson, originally from California, started an international aquaculture company in Utah in 1992. In 2008, Utah law changed allowing these two entrepreneurs to pursue their longtime dream of opening a strong beer microbrewery in Utah, like those they frequented in the Golden State.
Together, they have teamed with Brewmaster Kevin Crompton, formerly from Bohemian Brewery. Crompton has been brewing for more than 20 years (since 1994) and has brewed for three Utah breweries and another in Hawaii.
Admittedly, beer geeks, foodies and "Epic" adventure junkies, the three share a passion for making and drinking fine ales and lagers. The Epic team has a strong belief in doing everything "all out."
Epic Brewing Company opened in Salt Lake City, Utah with six fermentation tanks giving it the flexibility to create a variety of small batch, artisanal beer. Within a few short months, Epic began earning medals for its beers domestically and internationally. The beer became a big hit with locals and out of state visitors alike and demand quickly increased. The brewery currently houses eight times its original fermentation space.
Three years later, in 2013, Epic expanded its brewery operations into Colorado by opening a second brewery in the River North district of downtown Denver. The Denver brewery offered enough space to support growing national distribution, expansion of the popular barrel aged beer program and the introduction of a line of sour beers. Along with these improvements the addition of a "proper" tap room featuring 25 taps was a long awaited realization, allowing Epic to feature its substantial beer selection on draught.
Despite the rapid expansion and increase in production volume Epic Brewing has stayed committed to its founding principal of small batch, artisanal beer. Every batch released in the Elevated and Exponential series is numbered, stamped, and release information is published online. Currently brewing 39 plus beers Epic believes there is a beer for every person and every occasion.
Beer Name
Beer Style
ABV %
Available Sizes
Release Dates
Tart N' Juicy
Sour IPA
4.5
12oz Cans, 1/4BBL, 1/2BBL
Tropical Tart N' Juicy
Tropical Sour IPA
4.8
12oz Cans, 1/4BBL, 1/2BBL
Lemon Bomb Tart N' Juicy
Lemon Sour IPA
5
12oz Cans, 1/4BBL, 1/2BBL
Escape to Colorado
American IPA
6.2
12oz Cans, 1/4BBL, 1/2BBL
Lunar Transit
Juicy Hazy IPA
5
12oz Cans, 1/4BBL, 1/2BBL
Los Locos Lager
Mexican-Style Lager
4.8
12oz Cans, 1/4BBL, 1/2BBL
RiNo APA
American Pale Ale
5.8
12oz Cans, 1/4BBL, 1/2BBL
New England Style IPA
IPA
--
12oz Cans, 1/4BBL, 1/2BBL
4 Various Releases
Chasing Ghosts
NEDIPA
10
16oz Cans, 1/4BBL, 1/2BBL
Son of a Baptist
Coffee Stout with Cocoa Nibs
8
12oz Cans, 1/4BBL
Big Bad Baptist
Double/Imperial Stout
11.8
12oz Cans, 22oz. NR, 1/4BBL
Midnight Munchies
Peanut Butter Porter
8.5
16oz Cans
January
Creamsicle IPA
IPA with lactose and orange
8.5
16oz Cans
February
Tart N' Hazy
Barrel-Ages Sour IPA
7
16oz Cans
March
Put the IPA in the Coconut
Coconut IPA
8.5
16oz Cans
May
LIMITED RELEASE ITEMS
Imperial Pumpkin Porter
Imperial Pumpkin Porter
8
22oz NR, 1/4BBL
Fall
Barrel-Aged Imperial Pumpkin Porter
Barrel-Aged Imperial Pumpkin Porter
10.3
22oz NR, 1/4BBL
Fall
Big Bad Baptist Variants
Imperial Stout Variant
--
22oz NR, 1/4BBL, 1/2BBL
Limited Availability
Big Bad Baptist Reserve
Imperial Stout Variant
--
22oz NR, 1/4BBL
Limited Availability