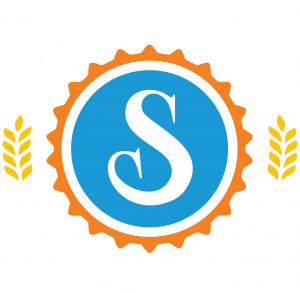 In late 2004, a three-phase microbrewery development plan was contemplated by founder and original brewmaster Barry Johnson. And alas, Saugatuck Brewing Company (SBC) was conceived. Beginning on June 23, 2005 a small, intimate, start up brewery utilizing only a small 3.5 barrel "Brew-On Premise" system was created in a leased industrial unit on Enterprise Drive, just across the road from the current location.
The second phase of SBC began in June of 2008 when the entire operation was moved and installed into the 25,000 square foot facility which was fully remodeled to feature the Irish style "Lucky Stone Pub" and a simple kitchen equipped for serving up pub sandwiches. In the spring of 2009 the kitchen and menu were expanded, adding delicious entrees, soups, appetizers and desserts. The Lucky Stone Pub is also proud to feature Michigan's only licensed "Brew On Premise" system where individuals can come in and brew their favorite style of beer and then take it home in 22 ounce bottles after fermentation and carbonation is complete.
Production brewing began in 2008-9 with the purchase and installation of a ten barrel beer production system in the back of the building, referred to as the "Brew House". This expansion allowed SBC to increase production for the pub and to begin planning regional distribution of our popular styles. Starting with a meager 70 barrels of fermentation space and a single head 22 oz. bottle filler (with labels lovingly applied by hand), first year production totaled approximately 250 barrels. In 2010, SBC progressed to the "Meheen" 6-head bottle filler and in-line labeler, enabling SBC to offer 4 mainstay styles in 6-packs as well as on tap. Distribution soon expanded to include the full lower peninsula of Michigan, adding greater Chicago in 2012 as annual production reached 2,000 barrels.
Multiple expansions later, SBC now utilizes a state of the art 45 barrel brew system which is paired with 960 barrels of fermentation space. With a newly installed rotary bottle filling/labeling conveyer system and a fleet of over 6,000 kegs; SBC now employs 12 full time brewer/cellarmen and distributes throughout Michigan, Illinois, Ohio, northern Indiana and Minnesota plus several foreign markets. The company projects production of approximately 13,000 barrels for 2015.
The growth will continue… and although SBC plans on continuing to expand into additional states and countries, we will always remember that Michigan is our home and we are proud of our roots and all of the people who have supported us along the way.
Beer Name
Beer Style
ABV%
Available Sizes
Release Dates
Neapolitan Milk Stout
Milk Stout
6
12oz Cans, 1/6BBL, 1/2BBL
1/2BBL in NITRO ONLY
Blueberry Maple Stout
Stout
6
12oz Cans, 1/6BBL, 1/2BBL
Oval Beach Blonde
Blonde Ale
5
12oz Cans, 1/6BBL, 1/2BBL
Paled It!
American Pale Ale
5.5
12oz Cans, 1/6BBL, 1/2BBL
RADventure
IPA
7
12oz Cans, 1/6BBL, 1/2BBL
Bonfire Brown
American Brown Ale
5.5
12oz Cans, 1/6BBL, 1/2BBL
1/2BBL also available in NITRO
Backyard
Low Calorie IPA
3.7
12oz Cans, 1/6BBL, 1/2BBL
Cotton Mouth Crusher
Raspberry Sour
6
12oz Cans, 1/6BBL, 1/2BBL
Happy Pack Variety
--
--
12oz Cans
Stout Pack Variety
Stout Variety
--
12oz Cans
Fall & Winter
SEASONALS
Blueberry Lemonade Shandy
Radler
5
12oz Cans, 1/6BBL, 1/2BBL
Spring & Summer
Peanut Butter Porter
Porter
5
12oz Cans, 1/6BBL, 1/2BBL
Fall & Winter
SPECIALTIES
Maggie's Irish Ale
Irish-Style Ale
5.4
12oz Cans, 1/6BBL, 1/2BBL
January
Ghost of Neapolitan White Stout
Milk Stout
6
12oz Cans
March
Blood Orange Oval Beach Blonde
Blonde Ale
5
12oz Cans
May
Lager of Love
Lager
4.3
12oz Cans, 1/6BBL, 1/2BBL
June
IMPaled It
Imperial Pale Ale
9
12oz Cans, 1/6BBL, 1/2BBL
October
BOURBON BARREL AGED
BA Imperial Blueberry Maple Stout
BA Imperial Stout
9.5
12oz NR, 12oz Cans, 1/6BBL
January
BA Imperial Neapolitan Milk Stout
BA Imperial Milk Stout
10.5
12oz NR, 12oz Cans, 1/6BBL
November
Double Dramanatrixx
BA Russian Imperial Stout
9.5
12oz Cans, 1/6BBL
August